I build all sites on a premium WordPress StudioPress Genesis Framework. This offers an array of beautiful themes for your content that are HTML5-compatible and mobile-responsive.
Check Out These Amazing Designs:
Choose from one of the 50+ themes below. Just click on the button or image to view the fully working demo site.
The Core Genesis Framework Theme
The Genesis Framework empowers you to quickly and easily build incredible websites with WordPress.
View Live Demo Site 
Agency Pro Theme
Represent your professional services with confidence and clarity by harnessing the streamlined professionalism of the Agency theme.
View Live Demo Site 
AgentPress Pro Theme
AgentPress helps industry savvy real estate agents like you build a better business with its intuitive design, powerful functionality, and smart listings. Rise above the market and achieve results by showcasing your professional services and up-to-the-minute resources with the buyer-friendly layouts of AgentPress. Your clients will thank you for it.
View Live Demo Site 
Altitude Pro Theme
The parallax effects will grab your eye, but it's the features and flexibility will move your mind. What story can Altitude help you tell better? What product or idea can Altitude help you sell with more clarity and conviction?
View Live Demo Site 
Ambiance Pro Theme
If your website is a party, then you're the host. And you need a theme that gives your readers what they want most: you. Your images. Your words. Your character.
View Live Demo Site 
Aspire Pro Theme
When you're ready to step it up and seize success with a bold, eye-catching theme, you're ready for Aspire Pro. Aim high with a high-impact design that puts your best offerings in the spotlight.
View Live Demo Site 
Atmosphere Pro Theme
If you're ready for a theme with unlimited ambiance, take a look at Atmosphere Pro. Your visitors will take in all the details — both in your images and your copy — when you use Atmosphere Pro's wide open spaces and gorgeous contrasts.
View Live Demo Site 
Author Pro Theme
Author Pro helps published authors like you build a better online library of books with its intuitive design and powerful functionality. Further your following by showcasing your published work with the user-friendly features of Author Pro. Your readers will thank you for it.
View Live Demo Site 
Beautiful Pro Theme
There is no universal definition for the word beauty. Beauty, as they say, is in the eye of the beholder.
View Live Demo Site 
Brunch Pro Theme
Brunch Pro is the little sister of the #1 selling Genesis theme, Foodie Pro, and boasts excellent features like font & color options in the Customizer, minimalist style, flexible widgets, and an improved recipe index.
View Live Demo Site 
Café Pro Theme
When people research restaurants for a nice dinner out, they head to the web. And if you want them to end up inside of your restaurant, then you need to make a strong, positive impression when they are on your website.
View Live Demo Site 
Centric Pro Theme
Centric is the antidote for the short attention spans. Your bounce rates will never be the same with a web design that draws readers in and delivers them down your page.
View Live Demo Site 
Cook'd Pro Theme
Ready for the perfect blend of minimalism and responsiveness in a food-focused theme? We're pleased to introduce Cook'd Pro. Mouth-watering and easy on the eyes, this third-party theme makes fast-loading, bold, and super clean design a priority — while giving you a host of tools for featuring images and recipes.
View Live Demo Site 
Daily Dish Pro Theme
Daily Dish is a brand new theme for Genesis that is designed to present your content like it's the most appetizing dish at your favorite 4-star restaurant.
View Live Demo Site 
Digital Pro Theme
If you're building a business around digital goods, you need a theme that will support your efforts and won't get in the way when you're marketing your digital products. Digital Pro builds trust with a friendly, open feel and clean, easy-to-read typography.
View Live Demo Site 
Divine Theme
Versatility and Personalization is what we are about. The Divine theme is all that and more! This theme can be used for any genre of blog or site, can be customized to fit your images and style, and completely make it your own.
View Live Demo Site 
Education Pro Theme
Your institution has a great deal of information to convey in a short period of time. Text, audio, video, curricula, and more…
View Live Demo Site 
Elegance Theme
If you're looking for refinement and a polished presentation, your search is over. Elegance is a graceful theme for smart, sophisticated businesses. You'll love the large images and stately typography in Elegance. It's feature-rich and easily customizable as well.
View Live Demo Site 
Eleven40 Pro Theme
Form and function converge at Eleven40 to create a look that will draw your readers in no matter what device they are on.
View Live Demo Site 
Enterprise Pro Theme
Take the initiative for your business venture or services with the ingenuity and approachable design of the Enterprise theme.
View Live Demo Site 
Executive Pro Theme
Executive is designed with the understanding that your most important projects needs to be front and center, strategically and expertly displayed.
View Live Demo Site 
Expose Pro Theme
When you come in from the field, you want to effortlessly create a stunning display of your photographic work.
View Live Demo Site 
Focus Pro Theme
We're living in the Age of Distraction, with unlimited options pulling your readers in countless directions. It's time to focus…
View Live Demo Site 
Food Pro Theme
She's sleek and svelte with her minimalist approach and clean design, but she sure packs a punch when it comes to features. Foodie Pro is the most flexible Genesis Theme to date – with a minimalist style and plenty of color and typography options.
View Live Demo Site 
Gallery Pro Theme
Gallery Pro is a posh yet minimalist theme. It offers a warm welcome that is streamlined and full of light. With a winning combination of full-stretch and gallery images as well as beautiful typography, this theme offers loads of page, layout, and customization options.
View Live Demo Site 
Generate Pro Theme
In the end, it all comes down to your list. Your email list. If you need to generate more and better email leads, you need web design that specifically supports that goal.
View Live Demo Site 
Glam Pro Theme
Flashbulbs go off and you realize that once again, your business has attracted the attention of adoring crowds. It must be your theme! The high style charisma of Glam Pro does it every time.
View Live Demo Site 
Going Green Pro Theme
Maybe you want to save the earth. Maybe you want to save your neighborhood.
View Live Demo Site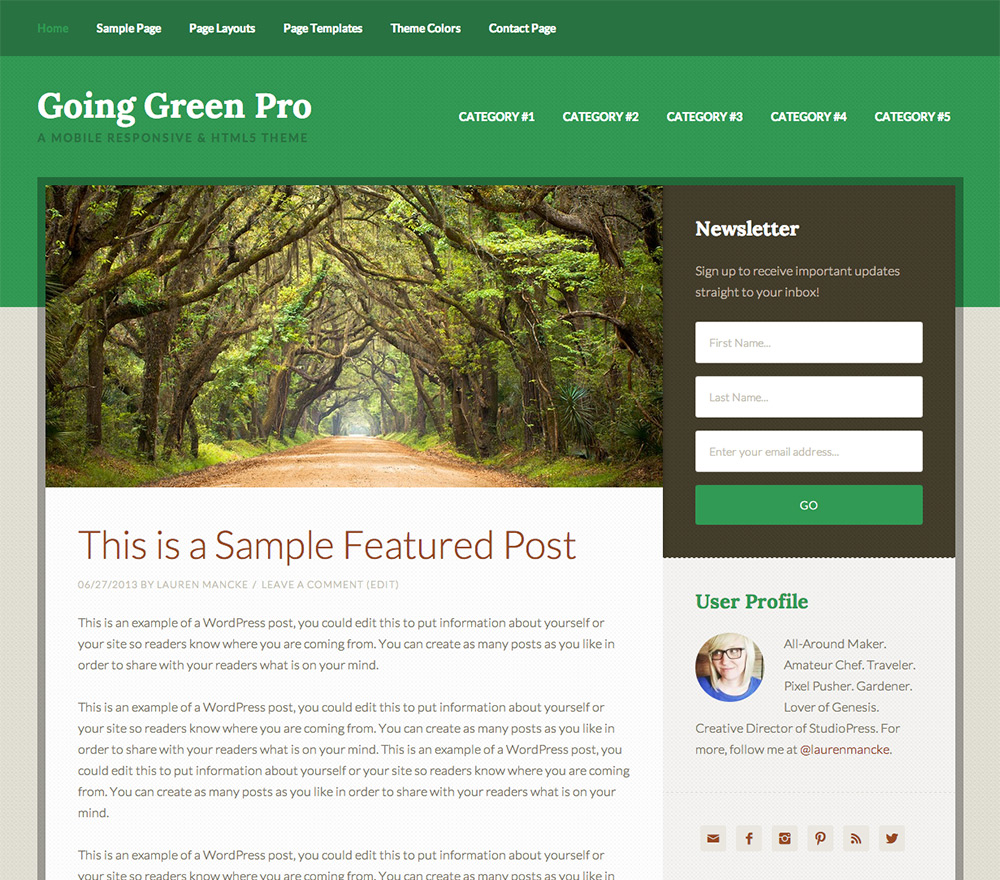 Hello! Pro Theme
Put your name and your message at the forefront with Hello! Pro, the theme that establishes your unique personal brand. Give a warm welcome to site visitors and draw them into your brand messaging with this beautiful premium theme from StudioPress.
View Live Demo Site 
Interior Pro Theme
You put a lot of thought and care into the spaces you style… why should your digital presence be any different? With Interior Pro, we've taken care of the online staging for you so that you can effortlessly share your creative approach with the world.
View Live Demo Site 
Jessica Woo Pro Theme
Building an e-commerce site? Jessica is here to help. Jessica is chock-full of features that make it easy to use three popular e-commerce plugins: WooCommerce, iThemes Exchange, and WP e-Commerce.
View Live Demo Site 
Kickstart Pro Theme
Are you launching a startup business? Or do you want your business to look like a startup? Meet Kickstart Pro. This high-energy theme is chock-full of features you can put to work for your business with just a few clicks.
View Live Demo Site 
Lifestyle Pro Theme
Stylish online publishing has never been so easy than with the bright, magazine-style frame and amazing flexibility of the Lifestyle theme.
View Live Demo Site 
Magazine Pro Theme
Put yourself on the front lines of online publishing with the up-to-the-minute, high-gloss look and feel of the Magazine theme.
View Live Demo Site 
Maker Pro Theme
You tinker, you conceptualize, you come up with hacks, you Make. Maker Pro is a theme that honors your Maker self and puts your ideas — as well as the creations they give rise to — front and center.
View Live Demo Site 
Metro Pro Theme
Presenting Metro, a modern magazine-style layout built on an optimized mobile responsive platform.
View Live Demo Site 
Milan Pro Theme
Your unmistakable style deserves a site that features it beautifully. Presenting Milan, the fashion-forward, magazine-style theme for your digital story.
View Live Demo Site 
Minimum Pro Theme
A stunning execution of "less is more", the Minimum child theme expresses everything you're about, with very little effort.
View Live Demo Site 
Modern Portfolio Pro Theme
Put the focus on your images with the smart minimalism of the Modern Portfolio theme, a flexible, mobile-responsive layout.
View Live Demo Site 
Modern Studio Pro Theme
Modern Studio Pro draws eyes exactly where we want them — then doesn't distract them. Whether you need a simple navigation bar, or if you want a sidebar too, you can easily pick and choose the layout that fits the function you need your site to perform.
View Live Demo Site 
News Pro Theme
When you have readers and customers who are always hungry for more, deliver it in style with the publishing powerhouse News theme.
View Live Demo Site 
No Sidebar Pro Theme
When you're ready to pare things down to the essentials, you're ready for No Sidebar. No Sidebar is more than just a theme. It's an approach to life and to content that will offer your visitors a light and uncluttered online experience. It's a minimalist theme with maximum impact.
View Live Demo Site 
Outreach Pro Theme
A church is one of the most information intensive organizations. Don't let your message get lost.
View Live Demo Site 
Parallax Pro Theme
The new role of website design is to tell a story, which is what Parallax Pro was developed to do.
View Live Demo Site 
Pretty Creative Pro Theme
Pretty Creative is a theme for creatives. It was designed by a creative, with creatives in mind. No matter what it is that you create, the Pretty Creative theme will showcase your work in a polished way that allows your creativity to shine.
View Live Demo Site 
Pretty Chic Theme
Pretty Chic is stylish, functional, sleek, modern and filled with options. You can use one navigation bar, or 3. Perhaps the most important aspect in the function department is the full width ad widget, giving your site more appeal to various ad agencies.
View Live Demo Site 
Remobile Pro Theme
The typeface you choose for your website, and how you make it work, heavily impacts the experience of your visitors. It is not a choice to be taken lightly.
View Live Demo Site 
Simply Pro Theme
Simply Pro is a very modern theme following the design trends set by the top bloggers. With it's simple, minimal style, your content will look amazing. Simply Pro comes packaged with customizable colors, so you can change to fit your needs.
View Live Demo Site 
Sixteen Nine Pro Theme
Sixteen Nine lets your verbal and visual personality shine through while proving that design can be simple and stunning.
View Live Demo Site 
Showcase Pro Theme
Prepare for the attention you'll get, because all eyes will be on your website when you use the Showcase Pro theme. Exhibit your best images and content with a theme that displays them with clean, bright style.
View Live Demo Site 
Smart Passive Income Pro Theme
Pat Flynn knows it takes three key elements to create a successful online platform: design, content, and strategy. The Smart Passive Income Pro theme weaves together these essential elements. It features striking design and strategic content areas that will make your online business unforgettable.
View Live Demo Site 
Streamline Pro Theme
Your website shouldn't get in the way of your stories. Here's your chance to tell it like it is.
View Live Demo Site 
The 411 Pro Theme
The 411 Pro Theme is designed to get your information to your audience in the most visually appealing and navigationally efficient way possible.
View Live Demo Site 
Wellness Pro Theme
Do you focus on mindful living? Your attention to health and well-being can now extend to your website. Wellness Pro is here to offer a holistic theme solution for your Genesis-powered site.
View Live Demo Site 
Wintersong Pro Theme
Stripped to their to their essence against a backdrop that is minimal, simple, and serene, your words stand out as strong, essential, and worthy.
View Live Demo Site 
Whitespace Pro Theme
"Minimal" isn't really the right word, because there is plenty there — including a beautiful header image, gorgeous organization of blog posts, social buttons, and more. But it feels minimal. Your eyes stay comfortable. Your readers' will too.
View Live Demo Site 
Workstation Pro Theme
Whether you're a creative studio or a one-person shop, Workstation is the ideal theme to use to invite visitors into your world. This clean, open theme will highlight your best work with its large, dramatic images and elegant typography.
View Live Demo Site